PyconFR 2016 - I was there
22 October 2016
Last week-end, I went to the PyconFR 2016 at Rennes. It was the first Python event I went to since I have started to work with this language.
I must say, I was quite eager to see and meet people from the Python community. To be totally honest, when I started to work with Python, I had a mixed feeling about the Python community. I love the fact that it is almost only people working on it in their free time without the drive of big companies behind (I am not saying that companies are not involved here, only that most contributors do not have any outside influences from companies). However it seems sometimes that it is quite a mess. For example, there is not one accepted solution for packaging or even for dependencies management (easy_install, pip, setuptools, distutils, distutils2, distribute). The bases of the language are easy to get but the tooling suite is a mess.
With this preamble, let's start talking about the conferences.
I did not go to the code sprint the first 2 days because of work but I hope to be able to attend one in the future. It seems to be a great place to meet and learn from other coders.
My first point is about the dates. It is refreshing to have a conference on a week-end. I am working in a startup where something new happens everyday for the moment and it is difficult to take 2 consecutive days off. So having the conferences on the week-end was perfect for me (sorry for you if you had a family life ;).
My second point is about the organization. There I want to say a big BIG UP for the AFPY and Telecom Bretagne. It was a perfect run. The conferences started and ended on time. You had a small buffet with coffee or tea all day long, a breakfast in the morning and food trucks for lunch. There was a room locked by the AFPY were you could leave your luggages. All in all, It was great despite the rain on the first day.
Now I will describe each conferences I attended during these 2 days.
I must say that I did not like the format of the conferences at all. You had 2 durations : 25 minutes and 45 minutes. Most of the conferences lasted for 25 minutes included 5 minutes of question. So 20 minutes to talk about a subject is much too short. It is the worst thing I have to report about this event. Most of the talks ended as a small introduction to a subject without any depth. This was quite frustrating if you already have some background and experience in computer science. The standard duration should have been 45 minutes for all talks.
I will now give my opinion on the conferences I attended.
You had 3 tracks of conferences. If I were to describe them, I would say :
Around Python : libraries, tools, …
Machine learning with Python
Python internals
I went into tracks 1 and 3 mostly. It has been 1 year since I have started to work with Python. So I don't want to tackle too many things and I stayed focused on Python and its environment without going into the machine learning side. Sorry for the French titles, most of the talks were in French (and by the way, sorry for my spelling and grammar mistakes in English ;).
Ouf … It was quite a sprint … As I said, I would have preferred to listen to half of these conferences if it were to go more in depth on some subjects. I leave this PyconFR with the impression I did not learn much. Some of the speakers came from computer service companies : Where were the talks about architectures they implemented for their customers ? And how Python help them meet their need ? If the format of the conferences are the same next year, I won't attend, maybe I will focus on the code sprint instead and watch some videos on Youtube later.
This conclude my feedbacks on PyconFR 2016. One more time, BIG UP AFPY and Telecom Bretagne, thank you for these 2 days.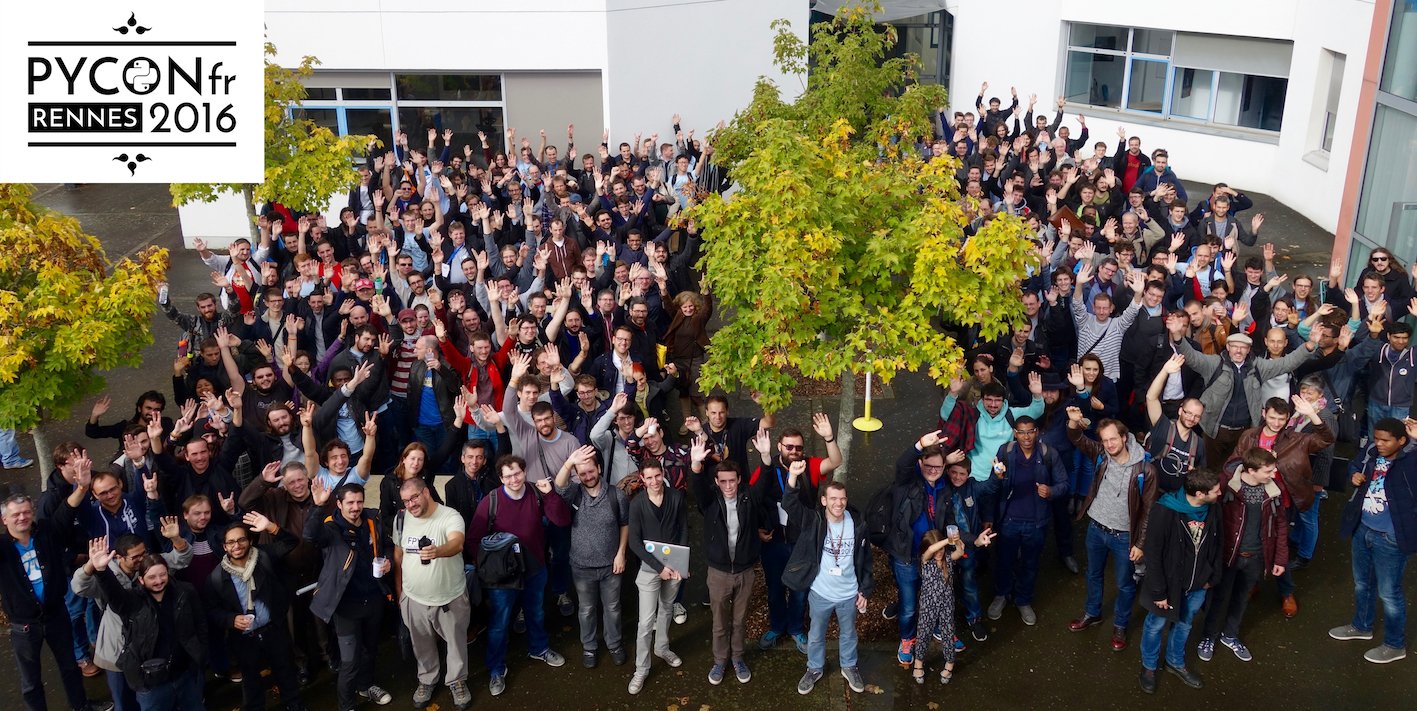 You can play find Jonathan (I had a hard time finding myself even knowing where I was at that time, I am hidden behind an arm and only half of my face is visible